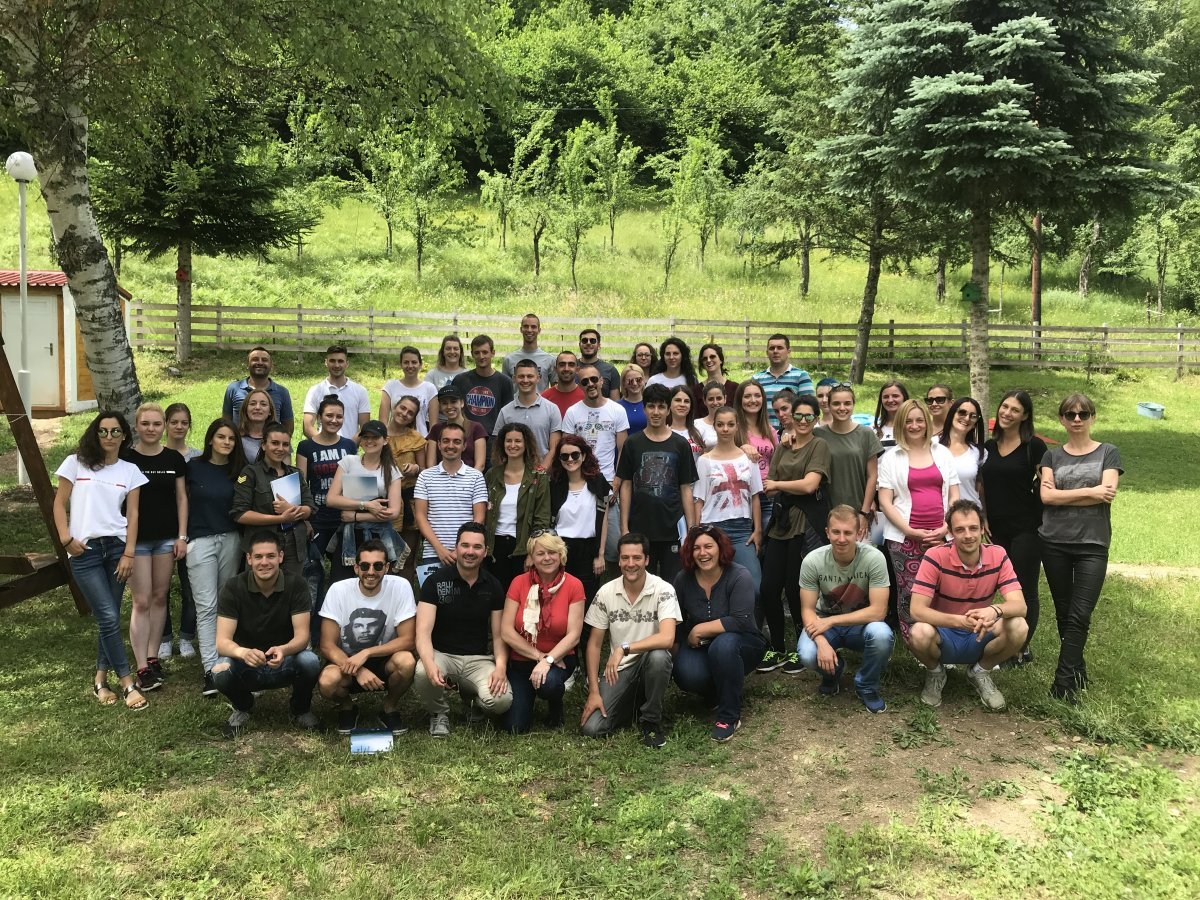 Regional Development Agency for Bjelasica, Komovi and Prokletije hosted the event that was organized in Outdoor Center Mojan in Andrijevica, from June 6-8, 2018, bringing together 40 young people from Zlatibor region in Serbia and southern and northern region of Montenegro. Participants had opportunity to learn about the EU best practices when it comes to entrepreneurship and to improve their knowledge in this field. The lectures were delivered by the experienced experts from the University of Rotenburg, Germany and GEA College – Faculty for Entrepreneurship, Slovenia. This group of young people will be also involved in the set of other activities envisaged by the project, including youth mobility activities that will be organized in Spain and Germany. On that occasion, young people will get the opportunity to learn about the best youth entrepreneurship practices in these two countries.
Participants of this event are mostly young people who are beginners in tourism sector or have business idea and plan to start the business.  During this workshop, they shared their ideas with the lecturers who gave them guidelines on how to further develop them, and they will receive more concrete support in this regard during the next workshops and events envisaged by this project. Project partners hope that young people participating in the project will become successful entrepreneurs and they will receive all necessary guidelines and mentoring support through upcoming events in order to realize their business idea in the best possible way.
This event was organized within the project ""Enhancing Montenegrin & Serbian Entrepreneurship and Tourism" supported by the Erasmus+, EU funded Programm, with the main goal to improve the capacities and motivate young people to start their careers, foster their entrepreneurial mind-set and thus employment of young people in tourism sector.
This project is implemented by Regional Development Agency for Bjelasica, Komovi and Prokletije, acting as the leading partner, in cooperation with Zlatibor Regional Development Agency, Municipality of Budva,  Institute of Modern Technologies of Montenegro,  GEA College – Faculty of Entrepreneurship, Slovenia, Steinbeis Innovation gGmbH , Germany and  GEMS, Educación en Andalucia, Spain.